Portfolio: E-Commerce
United Airlines -- United Connection on the Web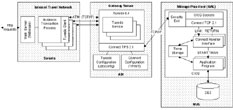 United Airlines was an early leader in electronic distribution, allowing customers to purchase tickets using a disk-based client/server product, "United Connection." To continue their lead in electronic distribution, United asked Flying Aces Technology to join their WebConnection project to introduce the functionality of "United Connection" to the Web. Flying Aces led the effort in selecting the vendor, identifying requirements, writing the RFP and evaluating the responses. Once the vendor was selected, Flying Aces prototyped, designed and implemented the gateway between the web site and United's mainframe-based Mileage Plus system. The gateway was implemented using C, HP-UX, BEA System's Tuxedo/Connect, COBOL and CICS.
Lands' End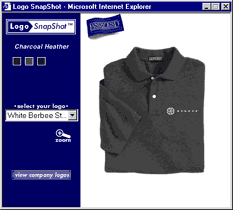 Flying Aces teamed with VSA Partners to develop Logo Snapshot™, an e-commerce feature on the Lands' End website. Logo SnapShot allows companies to order custom merchandise from Lands' End with their logo on it. The application allows customers to view how their company logo will look on the Lands' End products before they actually purchase the merchandise.


Potlatch Paper

Flying Aces teamed with VSA Partners to design and implement the Potlatch paper selector and math calculator features on the Potlatch website.
"The services Flying Aces have provided us with have been extremely valuable. There hasn't been a job that they didn't already have a solution for or couldn't figure out. Their work was always efficient and thorough, and they provided full support for all their work they delivered." --Brad Williams, Director of Marketing VSA Partners
The Potlatch Paper website was a Communication Arts' Interactive Design Annual Winner, recognized for excellence in design as well as technological innovation. The Communication Arts' Design Annual is the largest and most eminent of all juried competitions for graphic design.

BBN

BBN invented the Internet. As one of the original government contractors developing ARPANET, the Internet's direct predecessor, BBN was responsible for TCP/IP, routers and the "@" in your email address. BBN, now part of Level 3 Communications, is one of the largest national Internet Service Providers and tier one Internet network.

BBN needed help with their custom hosting and application development projects for the Central Region. Flying Aces provided consulting services to work with some of BBN's largest customers including Tribune Media Services, Chicago Mercantile Exchange, Principal Financial Group, and the Illinois Secretary of State.
"Flying Aces Technology was the best solution for us. We needed a company with solid business, technical and Internet expertise to assist our largest clients through a time of rapid change. Flying Aces was responsible for a wide range of duties from project management, hiring, mentoring, architecture design, and sales support. Their management team excelled at all these tasks." --Dave Meitzen, Director of Strategic Accounts, BBN
Smalley Steel Ring Company

Flying Aces Technology has delivered a number of solutions for Smalley Steel Ring Company, an innovative manufacturer. Initially, Flying Aces developed an Engineering and Parts Catalog on CD. The catalog allowed customers to search the more than 2000 products available from Smalley. Customers with specialized requirements could customize the part specifications to meet their own needs. The catalog featured a wizard that stepped the users through the customization process. The wizard performed numerous engineering calculations including installation stress, cyclical stresses, maximum load capacities and minimum design margins. Once the user selected their standard parts and designed their custom parts, they could save their work or print it suitable for faxing to Smalley's engineering staff. The catalog was written in Visual Basic, Access and Crystal Reports and ran on Windows 3.1, Windows 95, NT 3.51 and NT 4.0.

Subsequently, Flying Aces implemented much of the CD capabilities on Smalley's Website converting the Visual Basic code to Active Server Pages. Most recently, we implemented an extranet for Smalley's international distributors allowing them to query inventory and order status through a secure web-interface accessing Smalley's AS/400 data.

Vysis (now Abbott Molecular)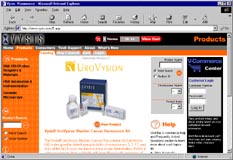 Flying Aces developed, with Orbis Web Design, the online product catalog for this genomic disease management company. Vysis products are necessarily complicated resulting in a multiple-page description for each product.
Subsequent to the web site's launch Vysis requested CD-based catalog containing the same content as the database-driven catalog but using only static HTML. Flying Aces developed a dynamic HTML-page generation system that automatically generates the entire web site to static HTML pages on request. This allows Vysis to update its page layout and product database for the web site and simply re-generate the CD-based catalog at the touch of a button.
Online Catalogs

Flying Aces Technology developed e-commerce sites for two mail order catalog companies: A. Daigger & Company (laboratory supplies) and ETA (teaching aids for K-12) using the same architecture to support these sister companies. Both e-commerce sites linked to existing AS/400 back office systems. Following its launch, Business Marketing Magazine named Daigger's site one of the top 50 business-to-business web sites.